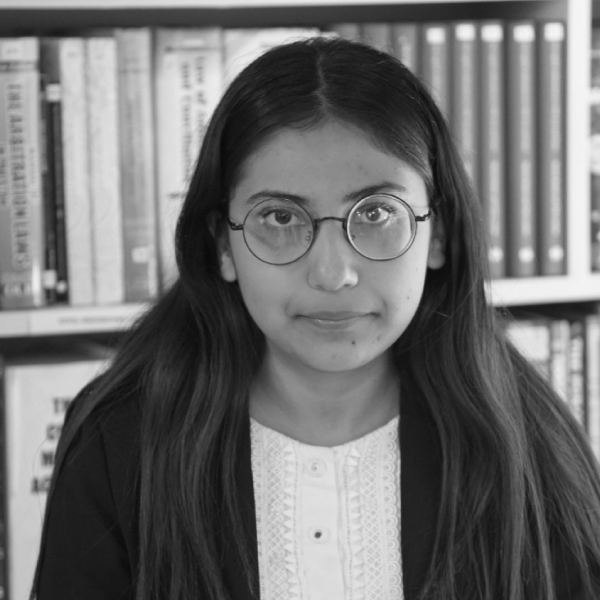 BIOGRAPHY
Shafaq Farooq was born at a military hospital in Lahore at sharp 5 am in the morning. The number 5 according to the ancient eastern science of numerology signifies great life changes, and vitality. Its energy represents curiosity, adventure, and strong foundations – characteristic of Shafaq's personality. Her paternal grandfather migrated from Amritsar, India to Lahore at the time of partition in 1947. Her grandmother was from Afghanistan. Born in Pakistan, Shafaq spent her formative years in Toronto, Canada where she attended a primary school with an international student population. Her natural inquisitive nature helped her understand and adapt to her multi-cultural environment and shape her communication skills. Along with enjoying academic education, she dived into extra-curricular activities and became a champion debater and actor in the school theatre. This led to a natural interest in law and advocacy.
On her family's return to Pakistan, Shafaq enrolled in the prestigious Kinnaird College for Women University Law School which has the distinction of being the first and only all-women law school in Pakistan. In her five years of Law School, Shafaq continued to polish her communication and advocacy skills and participated extensively in debates, mooting and paralegal work. In debates and mooting, she competed at the national and international level including Jessup and Jean-Pictet Moot. Shafaq was a national moot champion and president of the Moot Society at Kinnaird College.
Shafaq joined Four Chambers as an intern in the summer of her final year in 2021. She juggled both academics and apprenticeship for a year and, on graduating with Distinction, joined Four Chambers as a full-time junior Associate. From the start, she was thrown into the deep end of law practice in Pakistan in all fields of commercial, civil and criminal litigation and under the mentorship of Barrister Nudra B. Majeed, she continues to polish her research, drafting and advocacy skills. Shafaq is a litigator in commercial, civil and criminal matters and assists senior associates in drafting pleadings / advisories for both government and private clients.
Shafaq also gives guest lectures at various educational institutions in Pakistan and is regularly invited to conduct training and workshops on mooting and advocacy. She also frequently writes for different local and international law journals on areas of law including international humanitarian law, public international law, constitution and family law.